Add Your Site | Member Login | Surrendering To God








Site Of the Moment:


Live God Network





Surrendering To God poetry, poems, lyrics, music mp3, books, audio Bible study, cd, dvd, Family, Kids, Churches, Ministries, talks, education, freebies, friends, fun
Rank
Site
In
Out
46

Spirit Of Truth Ministries



0
0
Reaching out with the love of Jesus Christ to one and all. I pray that you will recieve strengh in your daily walk with God by your visit here. Thank you for visiting. New and improved site. If you do not know Jes
47

Maranatha



0
0
A Message Board owned by Jesus Christ for His Glory!
48

Binkle's ByrdHouse



0
0

Meet Binkle and learn all about parakeets and how to keep them happy!
49

Dano's Place



0
0

Christian based, Bible Studies, Christian Articles, Devotionals, and more coming soon.
50

Beautiful Jesus



0
0
A Christian site dedicated to lifting up the name of our Beautiful Jesus with poems and places to go to find out about our savior and King of Kings Jesus
51

Pupi Hood



0
0
All you need to know about puppyhood! Plus Meet Molly McButter, Enter your pet in our pet photo contest, purchase Pet Portraits and More!
52

Casandy's Designs



0
0
coming soon...
53

Surrendering To God Top Christian Sites



0
0

A directory full of awesome Christian sites. Stop by and check us out. If you have a Christian site you're welcome to join us!
Your site here
Your site here
Your site here
Your site here
Your site here
Your site here
Your site here
Information & Guidelines for Surrendering To God Top Family Sites


Sites accepted into the STG Top Family Sites must be 'Family Friendly. No offensive material or links should be found on your site.



Please remember that you MUST have your voting button (or text link) visible on your site for your site to remain on the STG Top Family Sites listing.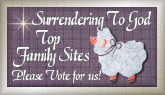 This is an example of what one of the voting buttons looks like. There are many different ones for you to choose from. (it is a working link)
If you use a banner for your site please make sure it is visible on the directory at all times. When member's banner links are broken it makes the topsite directory look messy. It would be better to have no banner rather than a banner that doesn't show up. So if the URL of your banner changes please remember to change it here too.

NEW: It is best to upload your banner to your own webspace (see note below regarding photobucket) and link it to the topsite directory however if you can't do that you can actually upload your banner to the topsite directory server. Just go into 'member login' and at the botton of the form where it asks for your banner URL it gives you 3 options. 1. No Banner, 2. Member Webspace (enter URL), 3. This Server (Upload the image). Just click on the 3rd option and upload your banner. You'll notice that when you submit your site it does not give you the option of uploading your banner, it just asks for the URL for your banner. So if you're wanting to upload your banner to this server you will have to do it after you submit your site.

The list will be reset the beginning of each month.

PLEASE NOTE: If you have a 'free site' and can't link a banner from it (such as homewithgod.com) but would still like to join STG Top Family Sites you can join without a banner or you can check out a free direct linking service such as Image Cave or PhotoBucket. They allow you to add your banner (or photos, whatever you like) and direct link them from there. There are other direct linking sites out there as well, these are just the ones that I'm using.