Add Your Site | Member Login | Surrendering To God











Rank
Site
In
Out
1
Comic Strips, Puzzles, Sweepstakes, Wallpapers!

0
0

Every day, a new Bible Verse, a new Quote, a new Quip, and a new Cartoon. Every week, a new Bible Wordoku (a fascinating puzzle) and a new Comic Strip. Every month, a new Sweepstakes (win great Christian books!) and a new Christian Desktop Wallpaper!
2
HEATHERS WEB

0
0
FAMILY SAFE.


3
Holy Night

0
0
Holy Night Website is dedicated to the birth of our Lord and Savior, Jesus Christ! It's updated year-round with gift ideas, recipes, stories, music, and coming in October 2006...A NATIVITY WONDERLAND!!! Come check it out
4
Precious in His Sight

0
0

Shopping and Resources for Christian families.
5
joy for all

0
0
Joy,inspirational,music,bible,Love,Poems,Poetry...all God's elements
6
The 1000 Such Days Topsites

0
0

The LORD will bring on you, on your people, and on your father's house Such Days as have never come since the day that Ephraim separated from Judah, the King of Assyria.
7
Inspirational Food For Thought

0
0
*Sharing Biblical Truths And Inspirational Articles On Christian Living*

"Nancy"-I have my site on your other top sites, can you use my banner from that site? Thanks..
8
Live God Network

0
0

Surrendering To God poetry, poems, lyrics, music mp3, books, audio Bible study, cd, dvd, Family, Kids, Churches, Ministries, talks, education, freebies, friends, fun
9
Glimpses of God

0
0
God's Word revealed, the true Bible Code: promoting worship, praise, adoration, faith, hope, truth, brotherhood, unity, and love via scriptural methods of Bible Study; a must see site.
10
His Sheep

0
0

Teaching uncompromised truth, prophecy, deliverance, spiritual warfare, Hebraic teachings, KJV Bible controversy, edifying messages, evolution, reference materials, music, humor, poetry and more.

11
Blessings Christian Family Top 100

0
0

Top Christian Family Sites including homeschooling, retail, ministry, books, modest clothing and more!
12
Christian Products and Services!

0
0

A topsites directory of Christian products and services.

13
G12 Revolution, All about Vision G12 and Leadership.

0
0

To win souls and make disciples. Our desire is to produce rapid church growth in our city and nation. Reaching people for the Gospel is not enough, they must be transformed into disciples of Jesus and through the G12 model produce fruit that lasts.Pastor:
14
Jewels of Hope

0
0
Christian Fashion Jewelry and Inspirational Gifts
15
Surrendering To God's Great Graphic Sites

0
0

I love beautiful graphics.I search the web looking for new graphic sites.I created a list with some of the sites I found. I update it regularly. If you have a site you would like added send me your URL and I'll check it out. Sites must be Family Friendly.
Information & Guidelines for Surrendering To God Top Family Sites


Sites accepted into the STG Top Family Sites must be 'Family Friendly. No offensive material or links should be found on your site.



Please remember that you MUST have your voting button (or text link) visible on your site for your site to remain on the STG Top Family Sites listing.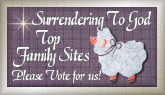 This is an example of what one of the voting buttons looks like. There are many different ones for you to choose from. (it is a working link)
If you use a banner for your site please make sure it is visible on the directory at all times. When member's banner links are broken it makes the topsite directory look messy. It would be better to have no banner rather than a banner that doesn't show up. So if the URL of your banner changes please remember to change it here too.

NEW: It is best to upload your banner to your own webspace (see note below regarding photobucket) and link it to the topsite directory however if you can't do that you can actually upload your banner to the topsite directory server. Just go into 'member login' and at the botton of the form where it asks for your banner URL it gives you 3 options. 1. No Banner, 2. Member Webspace (enter URL), 3. This Server (Upload the image). Just click on the 3rd option and upload your banner. You'll notice that when you submit your site it does not give you the option of uploading your banner, it just asks for the URL for your banner. So if you're wanting to upload your banner to this server you will have to do it after you submit your site.

The list will be reset the beginning of each month.

PLEASE NOTE: If you have a 'free site' and can't link a banner from it (such as homewithgod.com) but would still like to join STG Top Family Sites you can join without a banner or you can check out a free direct linking service such as Image Cave or PhotoBucket. They allow you to add your banner (or photos, whatever you like) and direct link them from there. There are other direct linking sites out there as well, these are just the ones that I'm using.